Web content as private tutor
Hi, my name is Choi Heekyeong, and I'm with Planning Division 1. I joined Hakuhodo because I was intrigued by its philosophy of Sei-katsu-sha Insight, which sees people not merely as consumers but as individuals with real lives. I work as a strategic planner assisting clients with developing their marketing and communication strategies for the Japanese and international markets.
Here I'd like to join me in examining an interesting social development revealed by the Seikatsu Teiten time-series data, along with marketing and communications opportunities it brings with it.
When I took part in the futurology forum Mirai Expo 2017: The Future of Obsession last year, I was struck to discover that the researchers at the Hakuhodo Institute of Life and Living keep notes of any day-to-day changes or hints of future developments that intrigue them. Ever since then I've made a point of keeping a record on my smartphone of little things I notice each day before I forget them. Recently I've become intrigued by Korean beauty YouTuber Pony, who posts makeup tutorial videos. In Japan the word "YouTuber" has been much in the news lately: it was nominated as Japan's Word of the Year for 2017, and it made the rankings of what children want to be when they grow up. In Korea professional YouTubers are likewise in the limelight these days.
Web content's growing role as private tutor
Online videos have now become part and parcel of people's lives. Using the Seikatsu Teiten data, I traced changes in how much people watch online videos by age group. Despite a slight drop in usership of video uploading and sharing sites with the advent of on-demand video sites, the number of twenty-somethings using video sharing sites still remains remarkably high at just over 70%. Conversely, the number who don't read magazines on weekends has risen to just over 60%.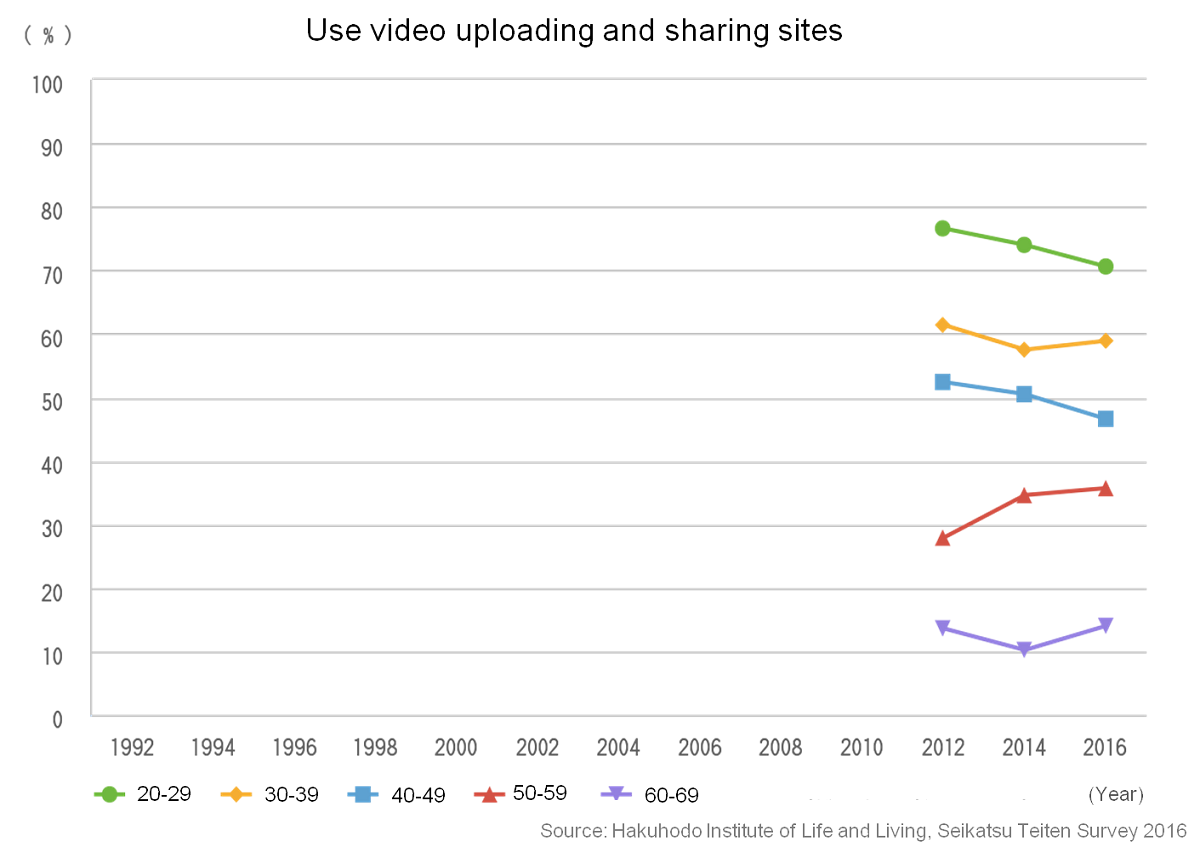 https://seikatsusoken.jp/teiten/answer/1326.html (link in Japanese)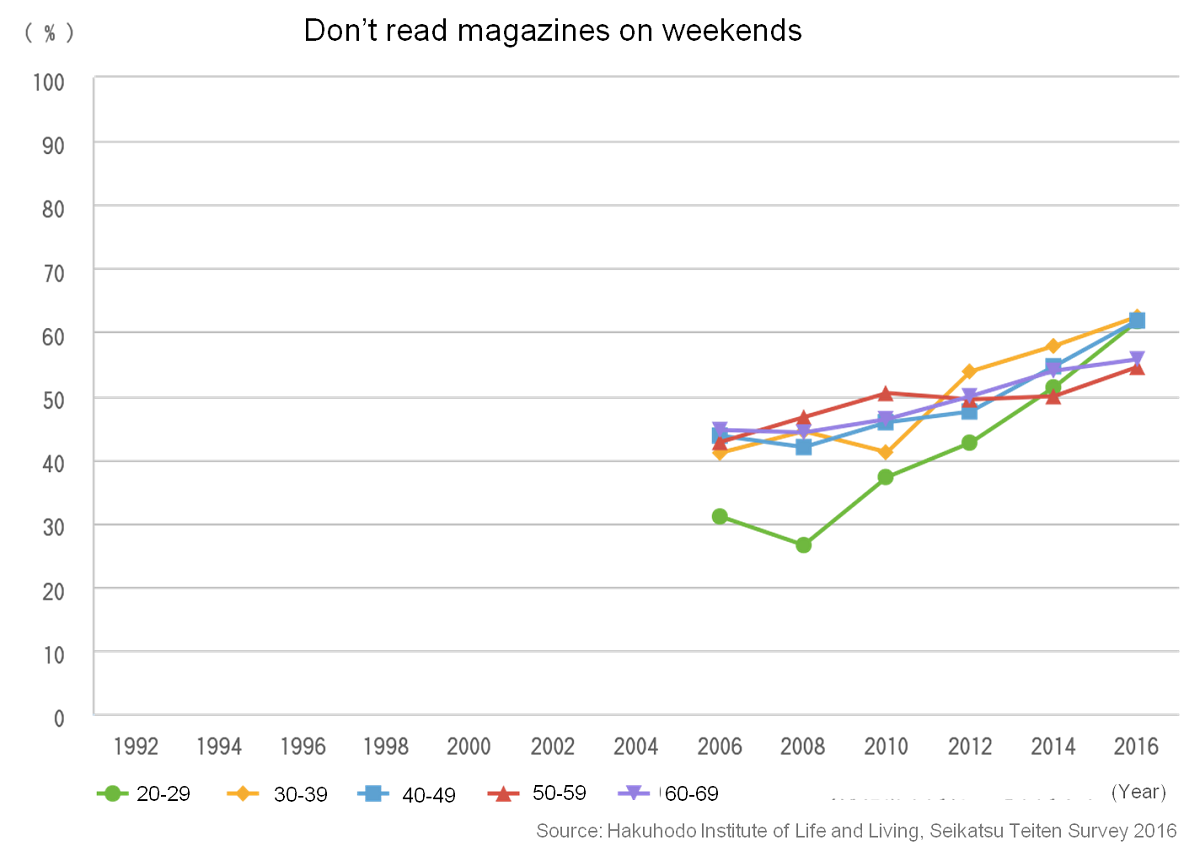 https://seikatsusoken.jp/teiten/answer/1301.html (link in Japanese)
It occurred to me that perhaps people who had previously looked to magazines for advice on how to do their makeup or prepare a meal were gradually turning to the Internet instead. I therefore searched for the most relevant survey item, which was one asking about "websites and blogs" rather than web content since it was added in 2012. This suggests that a growing number of people, especially women, rely on web content as their personal tutor.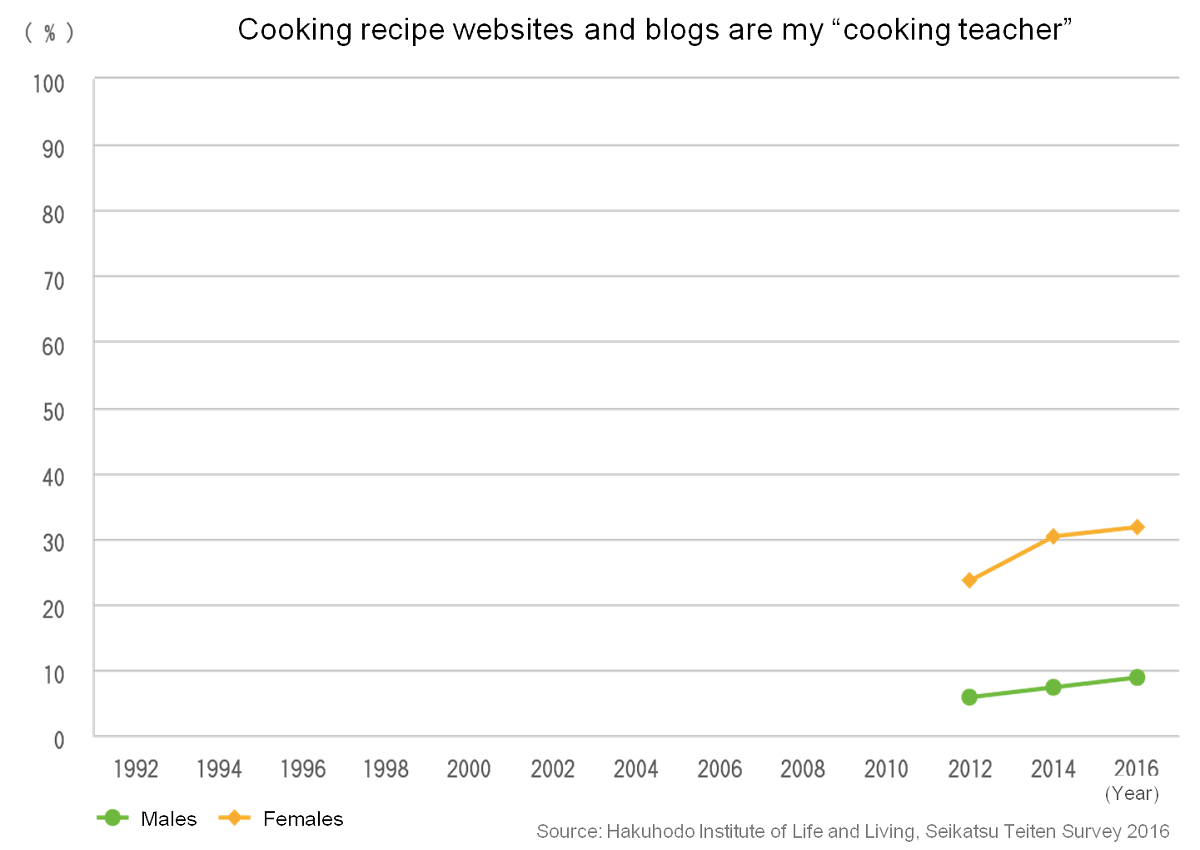 https://seikatsusoken.jp/teiten/answer/442.html (link in Japanese)
Considering the popularity of cooking and makeup videos that can be watched on the fly, adding a question that asked directly about web content would bring the true state of things into sharper focus.
Hidden new opportunities in the age of web content as private tutor
To revert to my opening theme, the reason I'm so intrigued by Pony these days is because it seems to me that she epitomizes the hidden new opportunities lurking in the age of web content as private tutor.
(1) Products targeting advanced users are attracting renewed interest.
Pony's videos are admired for their easy-to-follow explanations of makeup techniques and directions on using implements like makeup brushes that are considered really tricky to use. She is so popular that her YouTube channel has 3.3 million subscribers and she has 4.5 million followers on Instagram (as of December 25). She has been featured in Japanese women's magazines as well.
The popularity of Beauty YouTubers like Pony has caught the attention of manufacturers, who enlist them for publicity purposes by getting them to do live reports (giving them free samples and letting them say what they think). They also develop strategic products. As a result, difficult makeup techniques that many women had given up on—meticulously using an assortment of brushes, color correcting (using a variety of base colors to adjust skin tone with complementary colors), contouring—are attracting renewed interest. It wasn't so long ago that makeup items that let you do it all in one go like BB cream and cushion foundation were all the rage in Korea. That goes to show that demand for makeup has become highly segmented while interest in it has soared.
Now that people have their own private tutor in the form of video content, products that have until now targeted advanced users—and not just makeup either—may have the opportunity to attract new interest because video tutorials make them more accessible.
(2) Demand is crossing borders.
As website traffic increases, the platform as well as the content producer earn advertising revenue. The platform will therefore add a translation function or create a feature that translates the captions into different languages depending on the viewer. And more and more content producers are adding English subtitles themselves.
Pony's videos come with English translation, and her live reports on Korean brands have generated demand for them among visitors to Korea. On the flip side, My Lips But Better (MLBB) products, which are popular in North America, and Japanese false eyelashes both became favorite purchases of Korean tourists traveling abroad after Pony featured them in her videos.
Having viewers all over the world makes it possible to stimulate demand not only in Korea but overseas as well.
Carefully observe minor lifestyle changes and keep your eyes open for opportunities.
Since the advent of today's new media and platforms, innovative ways of using them have steadily emerged at the initiative of ordinary people, or sei-katsu-sha as we call them at Hakuhodo. My point isn't that we should give a free sample of whatever product we're responsible for to some YouTuber this instant. But I do think we should use our imagination in considering the significance of small changes and the potential they offer, so that when the right opportunity comes around, we have one possible approach all ready and waiting.
Link: Pony's YouTube Channel (PONY Syndrome)
https://www.youtube.com/channel/UCT-_4GqC-yLY1xtTHhwY0hA
Share this article